Power: Oct 4-8: Prices jump on unseasonably high temperatures
In the day-ahead market on JEPX (Japan Electric Power Exchange), the 24-hour spot power prices for Oct 4-8 delivery rose steeply from the previous week in both East Japan and West Japan. With an increasing number of thermal units entering regular maintenance in the medium term, spot prices were bolstered by a growth in air-conditioning demand amid ongoing unseasonably high temperatures across Japan. Some market players also cited a recent spike in fuel prices and a subsequent increase in generation costs as a bullish factor. In Hokkaido, spot prices occasionally hit the intraday high above Yen 60 that was not seen in other areas, after Hokkaido EPC switched off the 600MW No2 unit at its Tomato Atsuma coal-fired power station for a planned suspension since Oct 2 amid reduced operating capacity at the interconnection line since last month. But the remarkable price spike in Hokkaido was alleviated as the Tomato Atsuma No2 unit resumed operation on Oct 8. Meanwhile, spot prices in Kyushu were glued to Yen 0.01 even on weekdays, posting a contrasting price trend from Hokkaido. Ample supply from solar power generation and nuclear reactors were widely believed to have generated downside pressure on Kyushu.
The actual highest price during the week was at Yen 65.02 in Hokkaido for Oct 5 delivery. The actual lowest price during the week was at Yen 0.01 in Kyushu for Oct 4-7 delivery. Meanwhile, eight areas from Hokkaido to Shikoku excluding Kyushu hit the intraday high of Yen 50.00 for Oct 8 delivery.
By area, the weekly average of the 24-hour spot prices was at Yen 19.74 in Hokkaido, up Yen 9.98 from the previous week, Yen 11.53 in Tohoku and Tokyo, up Yen 3.12, Yen 12.10 in Chubu, up Yen 2.44, Yen 12.06 in Hokuriku, up Yen 2.40, Yen 12.05 in Kansai, Chugoku and Shikoku, up Yen 2.39, and Yen 7.18 in Kyushu, down Yen 0.01.
Power demand in nine areas of Japan during Oct 4-8 was a combined 11,783.36 mil kWh, up 3.1% from 11,429.01 mil kWh during Sep 27-Oct 1. The figure was up 7.7% from the corresponding period a year earlier. Demand during Oct 5-9, 2020 after day of week adjustment was 10,941.13 mil kWh.
In the JEPX forward market, no transactions were reported.
Deals reported on TOCOM (Tokyo Commodity Exchange) during Oct 4-8 were as below.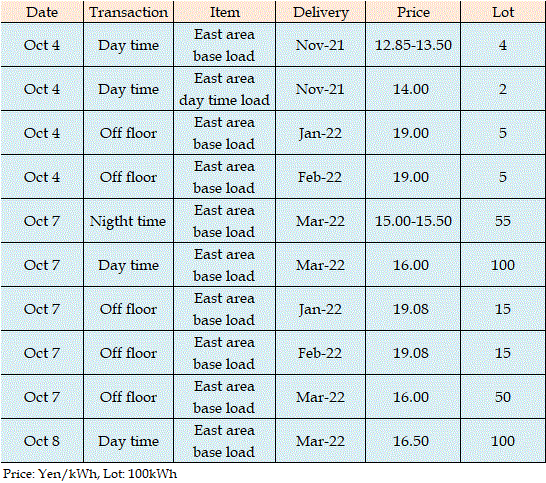 Deals reported on EEX (European Energy Exchange) during Oct 4-8 were as below.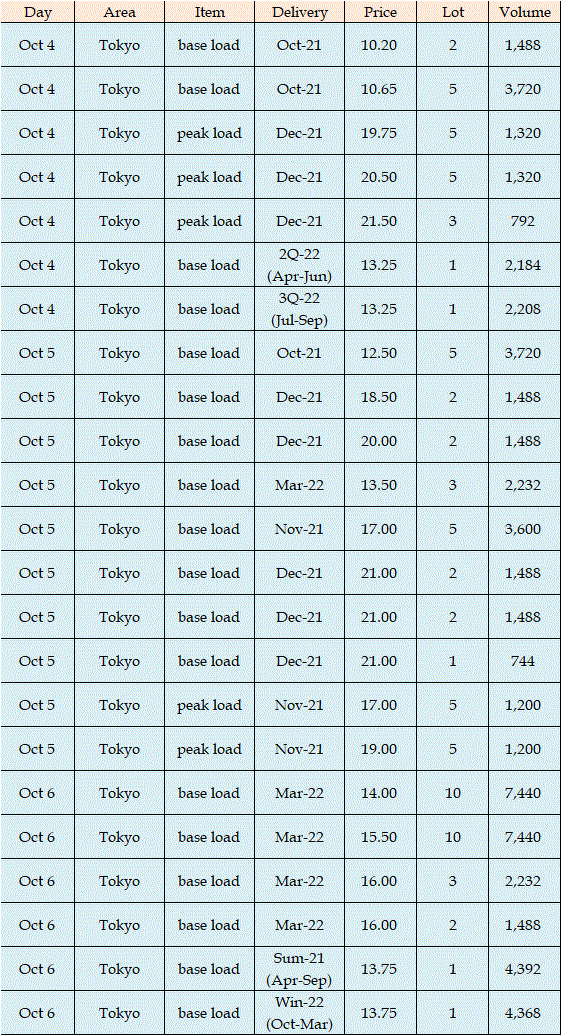 In the week starting Oct 11, spot prices will likely find support from tighter solar power supply with the weather forecast to be cloudy for most of the week. The highest temperature is expected to drop from the week started Oct 4, but some areas in West Japan will still see the day's high near 30 degrees. Overall demand is expected to slow down, but an increase in generation costs amid rising fuel prices is believed to peg offers relatively high. In this sense power prices will likely have limited downside potential.


Tokyo : Electricity Team K.Karino
+81-3-3552-2411
Copyright © RIM Intelligence Co. ALL RIGHTS RESERVED.