Power: Sep 6-10: Prices soften as lower temp hammers down demand
In the day-ahead market on JEPX (Japan Electric Power Exchange), the 24-hour spot power prices for Sep 6-10 delivery weakened from the previous week in both East Japan and West Japan. The weather was mostly cloudy across Japan, but slower demand amid comfortable temperatures took a toll on spot prices. Meanwhile, Kyushu had sunny weather on Sep 9, and spot prices pressured down by ample solar power supply to hit Yen 0.01 in seven windows during day time.
The actual highest price during the week was at Yen 16.85 in five areas in five areas from Chubu to Shikoku for Sep 10 delivery. The actual lowest price during the week was at Yen 0.01 in Kyushu for Sep 9 delivery.
By area, the weekly average of the 24-hour spot prices was at Yen 7.82 in Hokkaido, down Yen 0.75 from the previous week, Yen 7.55 in Tohoku, down Yen 1.63, Yen 7.59 in Tokyo, down Yen 1.63, Yen 8.05 in Chubu, Hokuriku and Kansai, down Yen 1.51, Yen 8.04 in Chugoku and Shikoku, down Yen 1.52, and Yen 7.51 in Kyushu, down Yen 0.90.
Power demand in nine areas of Japan during Sep 6-10 was a combined 11,795.27 mil kWh, down 8.9% from 12,941.11 mil kWh during Aug 30-Sep 3. The figure was down 12.4% from the corresponding period a year earlier. Demand during Sep 7-11, 2020 after day of week adjustment was 13,461.25 mil kWh.
In the JEPX forward market, two deals were reported in Tokyo on Sep 7. For Sep 11-17 delivery, the 24-hour contract and day time contract (delivery during 08:00-18:00 hours on weekdays) changed hands in 10MW each. The prices were at Yen 8.50 for the former and Yen 9.50 for the latter.
Deals reported on TOCOM (Tokyo Commodity Exchange) during Sep 6-10 were as below.

Deals reported on EEX (European Energy Exchange) during Sep 6-10 were as below.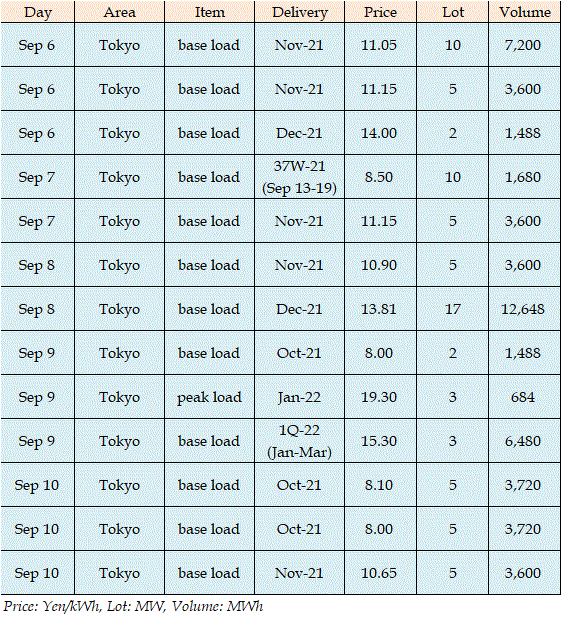 In the week starting Sep 13, spot prices are expected to stay in a narrow range. The temperatures are forecast to be around 30 degrees in Kanto in the first half of the week and around 30 degrees in West Japan across the week. But the weather is forecast to be partly cloudy in a wide range of areas, and less sunlight will alleviate hotness. Solar power supply will be curbed, but slower demand is believed to put a lid on spot prices. But an increasing number of thermal units are scheduled to enter regular maintenance, leaving lower power reverse rates. Spot prices could test higher territory in case of fresh unit troubles.


Tokyo : Electricity Team N.Honma
+81-3-3552-2411
Copyright © RIM Intelligence Co. ALL RIGHTS RESERVED.