Power: May 31-Jun 4: Prices soften further amid ample solar supply
In the day-ahead market on JEPX (Japan Electric Power Exchange), the 24-hour spot power prices for May 31-Jun 4 delivery extended losses from the previous week in both East Japan and West Japan. Following the previous week, the weather was mostly sunny across Japan until the middle of the week, and ample solar power supply weighed on spot prices. But the weather went downhill from West Japan in the latter half of the week. Tighter solar power supply helped correct spot prices upward from lows earlier in the week.
The actual highest price during the week was at Yen 17.00 in Shikoku for Jun 4 delivery. The actual lowest price during the week was at Yen 0.01 in Kyushu for May 31 and Jun 1 delivery.
By area, the weekly average of the 24-hour spot prices was at Yen 7.23 in Hokkaido, down Yen 1.54 from the previous week, Yen 7.21 in Tohoku, down Yen 0.49, Yen 7.25 in Tokyo, down Yen 0.52, Yen 7.61 in Chubu, down Yen 0.14, Yen 7.64 in Hokuriku, Kansai and Chugoku, down Yen 0.11, Yen 7.77 in Shikoku, up Yen 0.02, and Yen 6.79 in Kyushu, down Yen 0.32.
Power demand in nine areas of Japan during May 31-Jun 4 was a combined 11,147.85 mil kWh, up 2.9% from 10,835.04 mil kWh during May 24-28. The figure was up 2.0% from the corresponding period a year earlier. Demand during Jun 1-5, 2020 after day of week adjustment was 10,930.61 mil kWh.
In the JEPX forward market, no deals were reported during May 31-Jun 4.
Deals reported on TOCOM (Tokyo Commodity Exchange) during May 31-Jun 4 were as below.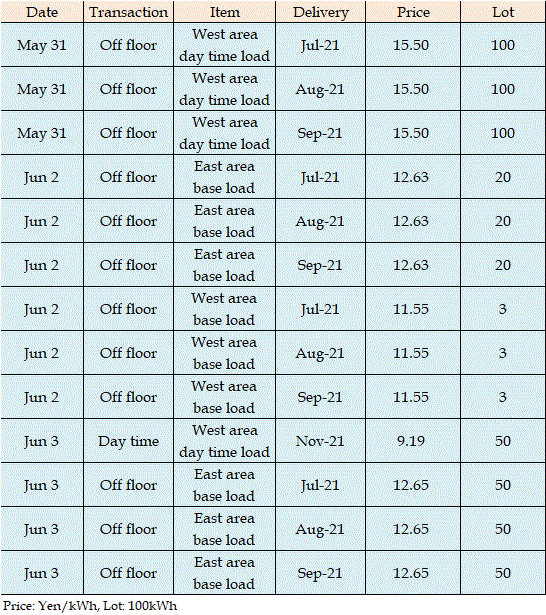 Deals reported on EEX (European Energy Exchange) during May 31-Jun 4 were as below.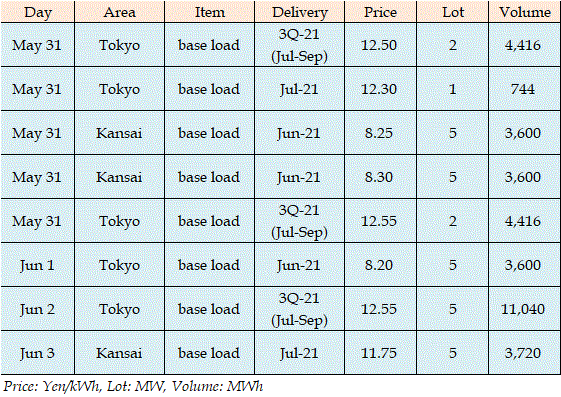 During the week starting Jun 7, the weather is forecast to be mostly sunny in a wide range of areas. Day time prices will likely have limited upside potential amid ample solar power supply. But the highest temperature is forecast to stay around 30 degrees from Kyushu to Kanto, a factor that will give a boost to air-conditioning demand. If the weather turns cloudy and curbs solar power generation, spot prices may move into higher territory.

Tokyo : Electricity Team K.Karino
+81-3-3552-2411
Copyright © RIM Intelligence Co. ALL RIGHTS RESERVED.