Power: May 24-28: Prices weaken on growing solar power supply
In the day-ahead market on JEPX (Japan Electric Power Exchange), the 24-hour spot power prices for May 24-28 delivery lost ground from the previous week in both East Japan and West Japan. Day time prices came under pressure from an increase in solar power supply. The Hokkaido-Honshu Interconnection Line between Hokkaido and Tohoku entered maintenance works starting May 23, limiting operating capacity to 600MW. The lower interconnection capacity sometimes pushed up spot prices in Hokkaido to hit the intraday high of Yen 30 or the Yen 20 level, way stronger than the day's high in other areas. But maintenance works are scheduled to be completed at night on May 28. With operating capacity of the interconnection line back to normal rates of 900MW, spot prices in Hokkaido are expected to calm down next week.
The actual highest price during the week was at Yen 30.00 in Hokkaido for May 24 delivery. The actual lowest price during the week was at Yen 0.01 in Kyushu for May 25 delivery.
By area, the weekly average of the 24-hour spot prices was at Yen 8.77 in Hokkaido, up Yen 0.37 from the previous week, Yen 7.70 in Tohoku, down Yen 0.74, Yen 7.77 in Tokyo, down Yen 0.81, Yen 7.75 in five areas including Chubu, Hokuriku, Kansai, Chugoku and Shikoku, down Yen 1.30, and Yen 7.11 in Kyushu, down Yen 1.77.
Power demand in nine areas of Japan during May 24-28 was a combined 10,835.03 mil kWh, down 2.4% from 11,105.89 mil kWh during May 17-21. The figure was up 5.2% from the corresponding period a year earlier. Demand during May 25-29, 2020 after day of week adjustment was 10,303.30 mil kWh.
In the JEPX forward market, one transaction was reported on May 26. In Kansai, the day time contract (delivery during 08:00-18:00 hours on weekdays) changed hands in 1MW at Yen 8.50 for May 29-Jun 4. In the previous week, the day time contract in Kansai fetched Yen 9.50 in 30MW for May 22-28. The traded price on May 26 tumbled by Yen 1.00, weighed by an expected growth in solar power supply as the weather in West Japan is forecast to be partly sunny from Monday to Wednesday in the week starting May 31.
Deals reported on TOCOM (Tokyo Commodity Exchange) during May 24-28 were as below.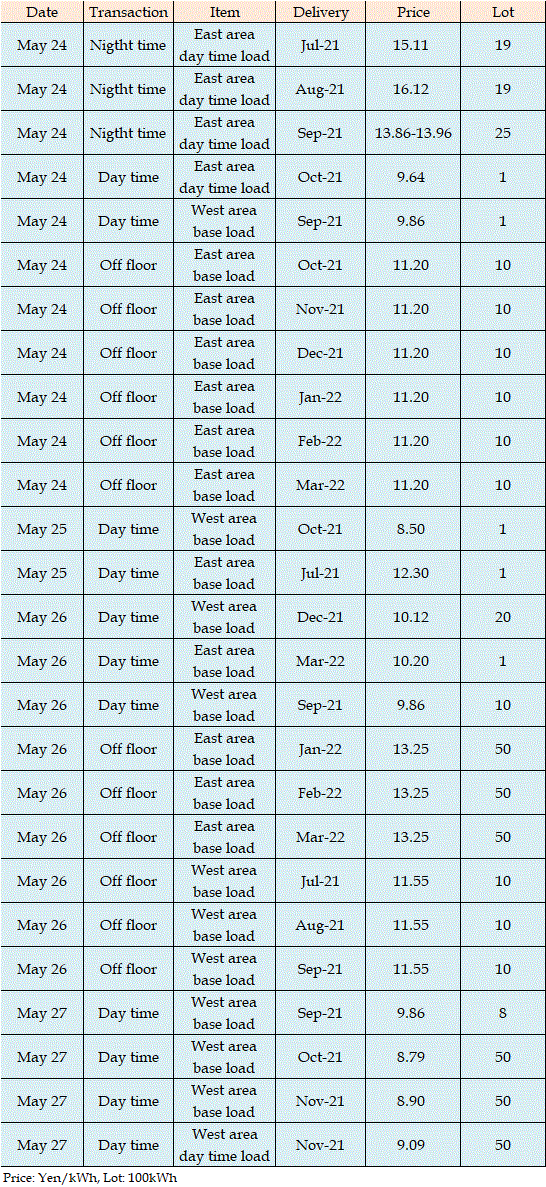 Deals reported on EEX (European Energy Exchange) during May 24-28 were as below.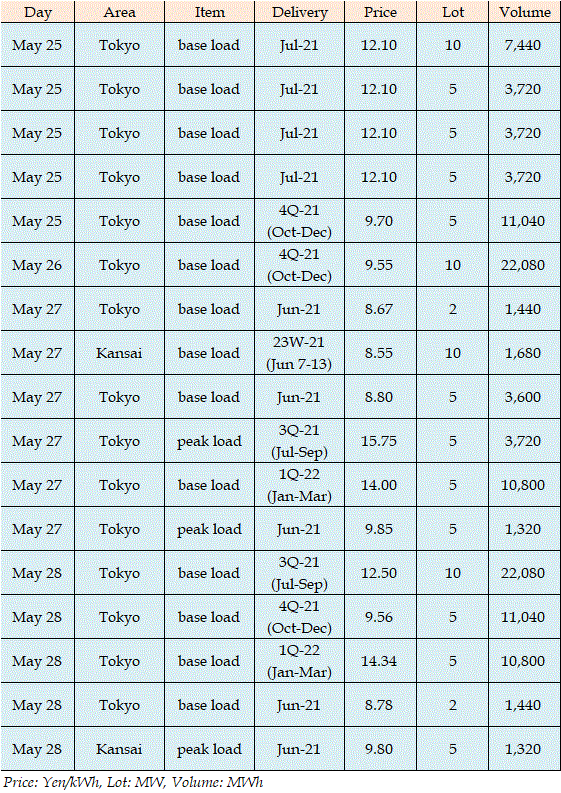 During the week starting May 31, spot prices will likely be capped in the first half of the week. As mentioned earlier, sunshine is expected to return from Monday to Wednesday in between the rainy period. Ample solar power supply will generate downside pressure on day time prices. But many thermal units remain out of service, a factor that will keep a solidness in night time prices. Spot prices could show an unexpected spike in case of troubled shutdowns of thermal units or a sudden change in weather conditions.

Tokyo : Electricity Team K.Karino
+81-3-3552-2411
Copyright © RIM Intelligence Co. ALL RIGHTS RESERVED.